MISSION
Our Mission is Four-fold:
To provide support and shared community for families and friends of traffic crash victims (including pedestrians, cyclists, drivers, and others on our roadways);
To help share stories of the lives of those lost in preventable traffic crashes;
To convert these stories into effective advocacy efforts in Montgomery County and the State of Maryland; and,
To prompt changes that would prevent such tragedies from occurring in the future
WHO WE ARE
We are… grieving family members and community advocates, with a shared concern for love ones lost in traffic-related crashes. First and foremost, we aim to provide support and resources to family members and friends of loved ones lost in traffic-related crashes, forming a support system, so that victims' family members and friends know that they are not alone.
We are… parents and neighbors, sisters and brothers, sons and daughters, friends, teachers, and community members, all committed to enabling a safer shared transportation system in Montgomery County – whether an individual is driving, walking, rolling, bicycling, or using a scooter; whether the transportation mode is human or engine-powered.
We believe… that traffic crashes are preventable, and, as such, we are committed to learning lessons from fatal crashes to understand how to prevent them in the future.
We work together… to transform these stories of preventable tragedy into actionable advocacy efforts, to ensure the streets are safer for all.
UPDATES
Join MoCo FSS, WABA, and ACT for:
Families Rally for Safe Streets
June 3, 2023, 1:00PM
Rockville Town Center
Gibbs St., Plaza Stage Area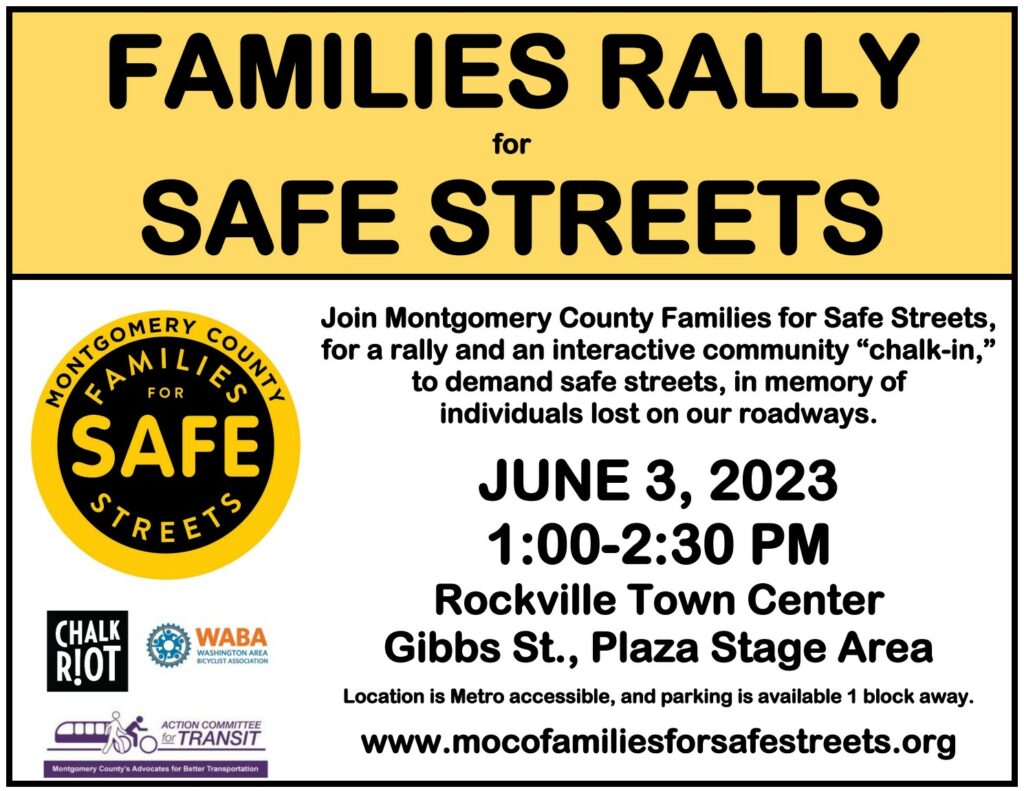 During this event, we ask familes and community members of all ages to join us for a rally and interactive community "chalk-in."
This event will be held in rememberance of individuals lost on our roadways.
Chalk Riot will lead a community chalk-in, providing opportunity to hold space with your important messages in sidewalk chalk about our collective need for safer streets in Montgomery County and across our region. The end result will be a colorful and meaningful mural on the ground we all share.
*Chalk Riot is an all-women mural production house that specializes in artwork on the ground. When not fulfilling commissioned projects, Chalk Riot advocates for the use of sidewalk chalk as a tool for community organizing and positive social change.