Misión
Nuestra misión tiene cuatro partes:
To provide support and shared community for families and friends of traffic crash victims (including pedestrians, cyclists, drivers, and others on our roadways);
To help share stories of the lives of those lost in preventable traffic crashes;
To convert these stories into y incidencia efectiva en el condado de Montgomery y el estado de Maryland; y,
To prompt changes that would evitarían que tales tragedias ocurran en el futuro
Quienes somos
We are… grieving family members con una preocupación compartida por los seres queridos perdidos en colisiones de tráfico. En primer lugar, nuestro objetivo es brindar apoyo y recursos a familiares y amigos de seres queridos perdidos en colisiones de tráfico, formando un sistema de apoyo, para que los familiares y amigos de las víctimas sepan que no están solos.
We are… parents and neighbors, sisters and brothers, sons and daughters, friends, teachers, and community members, todos comprometidos a realizar un sistema de transporte compartido más seguro en el condado de Montgomery, ya sea que una persona conduzca, camine, ruede, ande en bicicleta o use un scooter; si el modo de transporte es a propulsión humana o motorizada.
We believe… that traffic crashes are preventabley, como tal, estamos comprometidos a aprender lecciones de los choques fatales para comprender cómo prevenirlos en el futuro.
Trabajamos juntos...para transformar estas historias de tragedias prevenibles en incidencia y promoción accionable, para garantizar que las calles sean más seguras para todos.
Actualizaciones
Join MoCo FSS, WABA, and ACT for:
Families Rally for Safe Streets
June 3, 2023, 1:00PM
Rockville Town Center
Gibbs St., Plaza Stage Area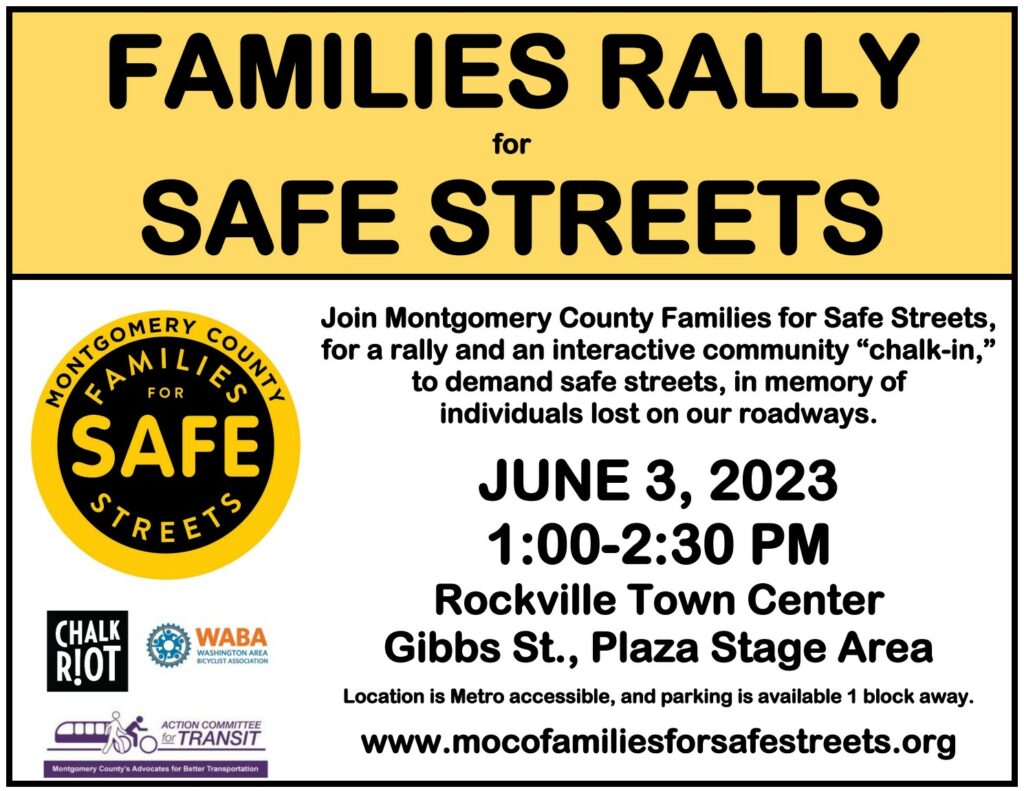 During this event, we ask familes and community members of all ages to join us for a rally and interactive community "chalk-in."
This event will be held in rememberance of individuals lost on our roadways.
Chalk Riot will lead a community chalk-in, providing opportunity to hold space with your important messages in sidewalk chalk about our collective need for safer streets in Montgomery County and across our region. The end result will be a colorful and meaningful mural on the ground we all share.
*Chalk Riot is an all-women mural production house that specializes in artwork on the ground. When not fulfilling commissioned projects, Chalk Riot advocates for the use of sidewalk chalk as a tool for community organizing and positive social change.